19 september
70 Years of DUŠKO RADOVIĆ Little Theatre
Back to...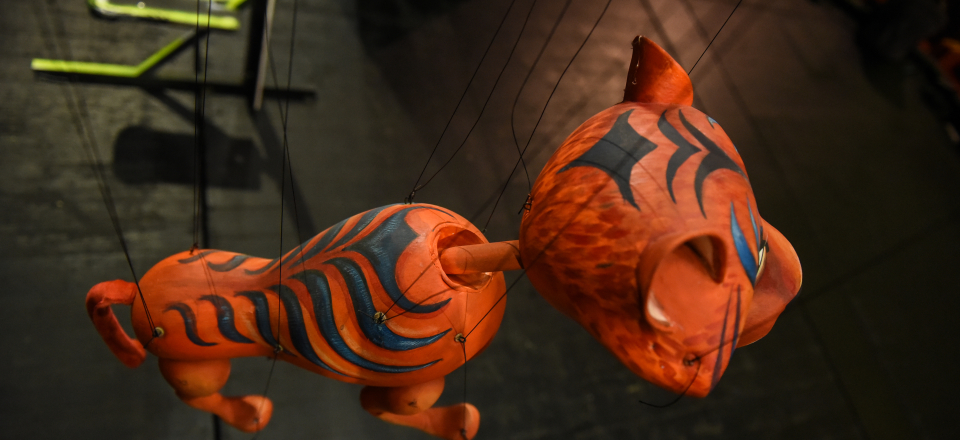 Opening: 19th September at 11.30 a.m.
Subotica Children's Theatre
Little Theatre "DUŠKO RADOVIĆ" has been located at the present address since 6 June 1968, when it occupied the first purpose-built children's theatre building in Yugoslavia, built according to the design of one of our most respected architects Ivan Antić. The opening of the new theatre house for children and youth put an end to the wandering of Belgrade Puppet Theatre. It was named Little Theatre on 28 December 1967. Its name Little Theatre suggests its purpose, which is to address young audience.
"The intention of this unpretentious name is not only to indicate the target audience, but also to associate it with the education of children towards becoming competent theatre spectators, while allowing the freedom of a comprehensive artistic expression addressed to both children and adults, and all this in order to counter the traditional and conventional and engage in the search for new fields of theatrical arts", said Majo Djurović, the first manager of this theatre under the new roof. Using many forms, such as marionettes, Guignol puppets, stick puppets, shadow theatre, masks, black theatre, abstraction, confrontation of puppets and actors as live partners, has allowed the fostering of different genres and brought a great reputation to the theatre in many countries across Europe. After the death of writer Dušan Radović, on the Theatre Day - 23 October 1984 the staff of Little Theatre decided to name the theatre after him. The same year, the theatre director Primož Bebler was elected manager of Little Theatre Duško Radović. This man of enormous theatrical energy and culture managed to transform a small puppet stage, gathering a huge number of exceptional theatre artists.
The Youth Scene, modelled on the European theatre scenes, focused on contemporary drama texts, provocative and socially engaged. The theatre opened its doors to a group of extremely talented but also highly educated artists, who transformed it into a big and creative workshop. International cooperation with cultural institutions from Denmark and Sweden is also significant. The reconstruction of the main building in Aberdareva Street was completed in late 2014. The project of reconstruction was modelled on the best European theatres, taking into account to fit the new appearance of the building into the atmosphere of Tašmajdan park. According to Alek Rodić - current manager, long-time theatre crew member, who completed his acting and puppetry studies in Sofia, Bulgaria, at the National Academy for Theatre and Film Arts (NATFIZ): "We're a little theatre, but we cast a long shadow". In memory of theatrical beginnings, Little Theatre grants annual awards to its crew members and guests for outstanding artistic contribution, named after the most deserving pioneers of puppetry - Božidar Valtrović (amateur actor, founder of the Puppet Theatre of the People's Republic of Serbia) Milena Načić (Little Theatre actress and member of the first permanent ensemble) and Marija Kulundžić (theatre director). In the good old spirit of Radović, the theatre continues to work with the best!
Puppets:
1. Circus Mario & Neta/ Tiger
Director: Dragoslav Todorović
Puppet design: Irina Somborac
Premiere date: March 25, 2016.
in 2016
47. Meetings of professional puppet theaters of Serbia, Belgrade ("Circus Mario & Neta" award for the best text to Milena Depolo, "Janko Vrbnjak" award for best animation to Lako Nikolić, best puppet design to Irina Somborac, Award for Puppet Magic, Children's Jury Award)
2. The End Crowns the Work/ Samurai
Director: Dragoslav Todorović
Puppet designer: Boris Čakširan
Premiere date: December 20, 2007.
in 2008
Meeting of the Puppet Theaters of Serbia, Niš ("The End Crowns the Work" award for acting to Damjan Kecojević and Special "Janko Vrbnjak" award for animation to Goran Balančević)
3. Who is Lorette?/ Lorette
Director: Katarina Petrović
Puppet designer: Filip Jevtić
Premiere date: March 27, 2009.
in 2010
Zvezdarište Theater, Belgrade ("Who is Loret?" award for Best Puppet Design to Filip Jevtić and award for Best Puppet Animation to Jelena Ilić)
Back to...