20 september
Exhibition dedicated to Ludmila Konstantinova Hense the Little Prince Award Laureate
Back to...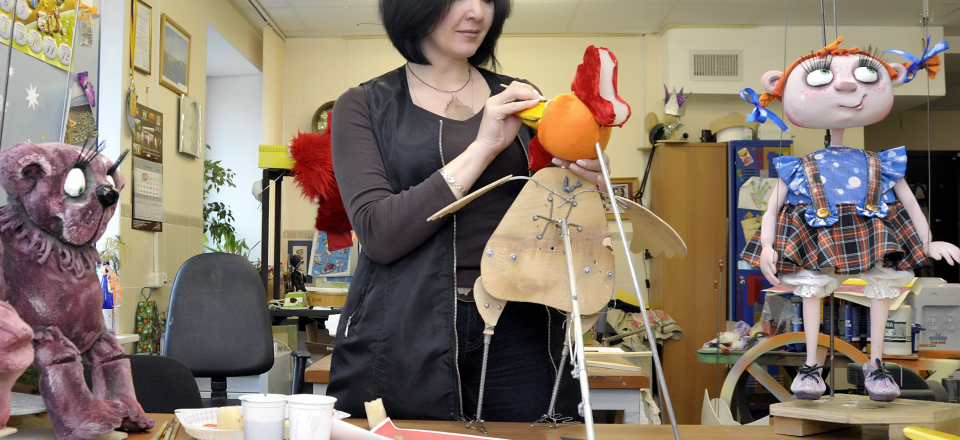 *Exhibition Opening: Open Unviersity Gallery, Monday 20th September at 11.15 am
The Russian word "artist", in the theatrical sense, is much more comprehensive than the direct translation - "artist", "painter". In the theater, and especially in the puppet theater, the artist is everything that concerns the image (appearance): from the scenography, through the costume design, to the puppets and props. The puppet show consists primarily of puppets and costumes of their animators (if they are visible, and if they are behind a screen, then only their hands, covered with gloves, while everything else is hidden by black costumes, ie dark background, lack of light), as well as scenography , which is always extremely functional, even when it is spectacular, it is in the function of puppets and the story they tell, moving in one of the ways - with strings, like puppets, sticks, strings, or directly with animators' hands (so-called hand puppets) . Lyudmila Konstantinova Hense is such artist. A complete artist, who with her creations enables a puppet to exist in the world of puppet-like beings. And her puppets belong to a large family of three-dimensional images of living beings, real, fantastic or virtual. And then, they belong to the history of human culture, art, and customs.
All performances of Ludmila Konstantinova Hense, she created puppets for, ie costumes and scenography, were characterized by an extraordinary atmosphere, which created shape and color, as well as a subtle play of light. Whether she used both figurative and symbolic or metaphorical sources in them, she achieved mastery in building tension by visual means.
She has been awarded at international puppet festivals and thus confirmed the value of her creations. That is why her works have always been gladly seen, both in her native Kazakhstan, then in Russia, and also in Serbia and Montenegro.
Zoran Đerić
Back to...