23 september 2022
13 th Forum for the Research of Theater Art for Children and Youth in Subotica has ended
Back to...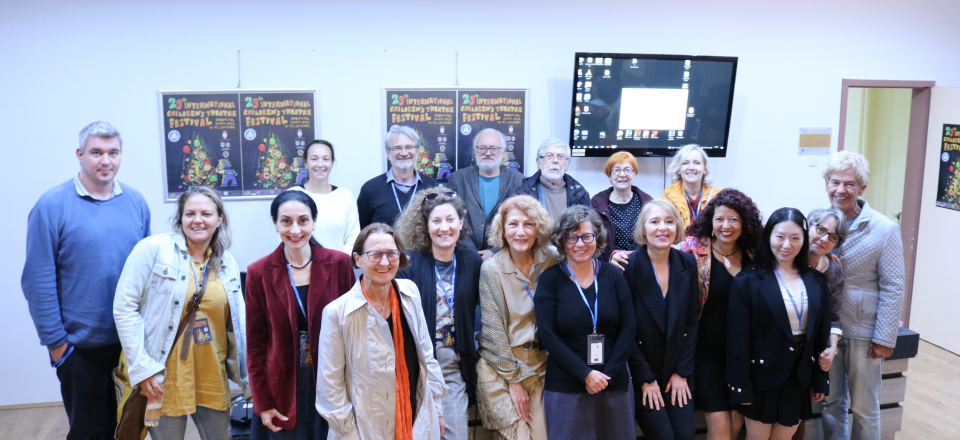 The thirteenth edition of the Forum for the Research of Theater Art for Children and Youth, on the "Interculturality in Theater for Children and Youth and Community Development", organized as part of the International Children's Theater Festival Subotica, ended on September 22.
Dr. Marijana Prpa Fink, head of the Forum, reflected on this year's edition of the Forum: "Our participants, guests from the world universities and well-known institutes, as well as practitioners, who do research in the field of theory and practice, dealt with themes that encouraged them to do further analysis . In that sense, the conference was stimulating and very lively. There were no formal presentations without any interaction, but on the contrary. Numerous questions and comments opened up, I was extremely satisfied with."
Dr. Marijana Prpa Fink emphasized the importance of this year's theme in focus: "I think it is very important that we deal with a specific approach to children's upbringing, and theater has a special role in that period. If children feel all the benefits of interculturality, then their upbringing is much better, and therefore the community develops in a positive way".
Viviane Juguero, a Brazilian theater artist and researcher who currently lives and works in Norway, participated in the forum online last year, and this year she visited Subotica for the first time. "I had already gained the impression of great human relations here, at the Festival and at the Forum. It's not just about how we share our research, but also about how we think of each other, how we can be open and learn from each other and make new friends. Everyone felt free to share their experiences and take risks together".
She also shared her impressions about the Festival: "It is interesting that the performances are very different, from different parts of the world. I think that every child should have the same chance to develop emotionally, to feel represented and be able to see themselves in these plays. I can see the desire to provide children with different cultural perspectives so I really commend the Festival".
Di Wang is a Forum participant from China who is studying in the UK, and in her PhD she research drama theater combined with early childhood education. She said about her impressions from Subotica: "In Britain, I participated in several conferences, but none of them combined a theater festival with academic meetings. That is why this Forum is very unique. It is especially important for theater people to get to know researchers in order to create a network in which we will learn from each other".
Wang also highlighted the excellent atmosphere: "I felt very comfortable and welcome, and this is probably the best conference I have attended. If the conference is too serious, the participants will refrain from expressing their true opinion, whereas here everyone was really open to discussion. I think it is a very good example that others can follow".
During the four days of the Forum, four sub-themes were represented: "Language and Stage Language", "Timelessness and Contemporariness in Theater for Children and Youth", "Theatre for Children and Youth and Education" and "Therapeutic Context of Theater for Children and Youth".
Participants from 11 countries took part in the Forum, live and online: Marijana Petrović, Sava Anđelković, Jovan Caran, Jelena Šakotić, Uroš Mladenović, Nina Ilić, Aleksandra Jelić, Milan Mađarev, Milica Šećerov, Robert Molnar (Serbia), Luka Kecman (BiH, Republika Srpska), Zdenka Đerđ (Croatia), Jelena Cvetko Sitar and Igor Cvetko (Slovenia), Sandrine Grataloup (France), Eva Tomaszewska (Poland), Viviane Juguero (Brazil/Norway), Gunnar Horn (Norway), Di Wang (China), Maryam Kazemi and Poupak Azimpour Tabrizi (Iran), Rachael MacBean and MD Khalid (India).
The 29 th edition of the Subotica International Children's Theater Festival ends tonight, September 23 at 7 p.m., with the closing ceremony of the Festival in the Subotica Children's Theater, when awards will be assigned to the best achievements of this year's Festival. The Main Program featured 14 performances for children from all over the world, chosen by the Festival's selector, Professor Dr. Zoran Đerić. Lifetime Achievement Award "Little Prince", for outstanding contribution to the development of culture and performing arts for children, was presented to actress Marijana Petrović and Victor Schreiman - a Russian - Israeli theater director, actor, pedagogue, critic, and one of the leading experts in the field of puppet theater.
Back to...