22 september 2021
Critique of the play PETER AND THE WOLF
Back to...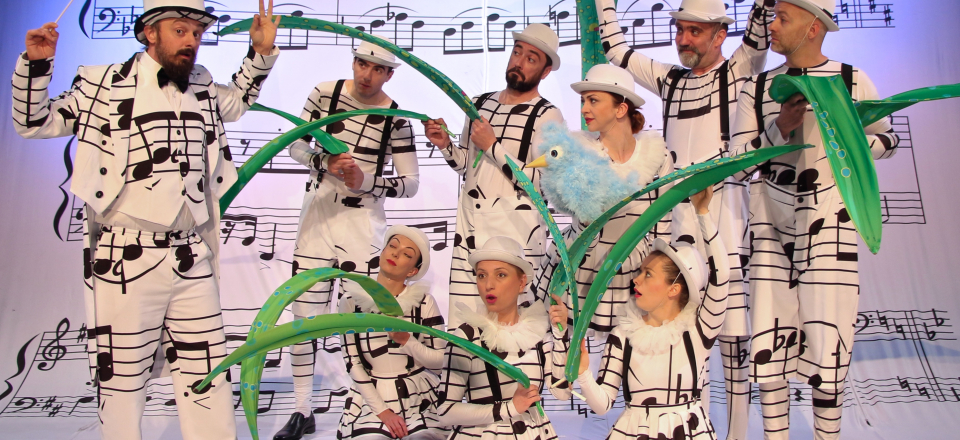 A fairy tale on notes
author: Divna Stojanov
Peter and the Wolf is a symphonic fairy tale by the Russian composer Sergei Prokofiev from 1936, in which each character is represented by a different instrument, and so through the story the children get acquainted with classical music. The adaptation, consistent with the original and directed by Biserka Kolevska, is originally staged at the Children's Theater of Republika Srpska.
The narrator and conductor of the story (convincing Duško Mazalica) is the only one who speaks and often retells what we see other characters do physically. This procedure unnecessarily duplicates the information. The rest of the cast (Dragan Vučić, Đordje Janković, Dragan Banjac, Aleksandar Blanić, Božana Bijelić, Zorana Šuman, Ana Anđelić, Đurđa Babić) consists of an orchestra, each with its own instrument and character; flute, oboe, clarinet, bassoon, horn, drum and violin, ie bird, duck, cat, grandfather's cave, wolf, hunter and Peter. All the instruments were shown first, and then a musical sequence was heard that presents children sounds of each instrument and adds them a character. At the second appearance of the protagonists on the stage, the narrator asks the children if they have remembered which instrument is related to its appearance, which is also very educational.
The concept is very interesting, but the story is too simple, without any twists, deeper relationships, obstacles or dangers: Peter catches the wolf with the help of a bird and takes him to the zoo together with the hunter. If the story was more complex, if it had a clear message, then it would certainly be easier for children to remember music lessons.
The greatest value of this play is that the audience heard the music of Sergei Prokofiev and that they generally heard classical music. The scenography (Svila Veličkova) follows the theme, so the performance takes place on a large screen over which a musical notation of the composition is printed. If necessary, the actors enter and exit the canvas that hangs from the ceiling and spreads all over the floor. The design of the puppets (also Svila Veličkova) or the masks of the actors who interpreted the animals and Santa was on the verge of liking. For example, the wolf costume was neither realistic, nor imaginative, nor scary, even though the wolf was supposed to be evil and wicked. Instead, he had an inappropriately long and thin body and an oversized head.
Play Peter and the Wolf did not fully use the potential offered by the symbiosis of the theater and music world. The intention, same as the Russian composer's, was to bring the orchestral music closer to children, but Peter and the animals could have gotten into all sorts of trouble before the wolf was finally caught.
Back to...