20 september
VARIOUS MASKS FOR THEATER STAGE
Back to...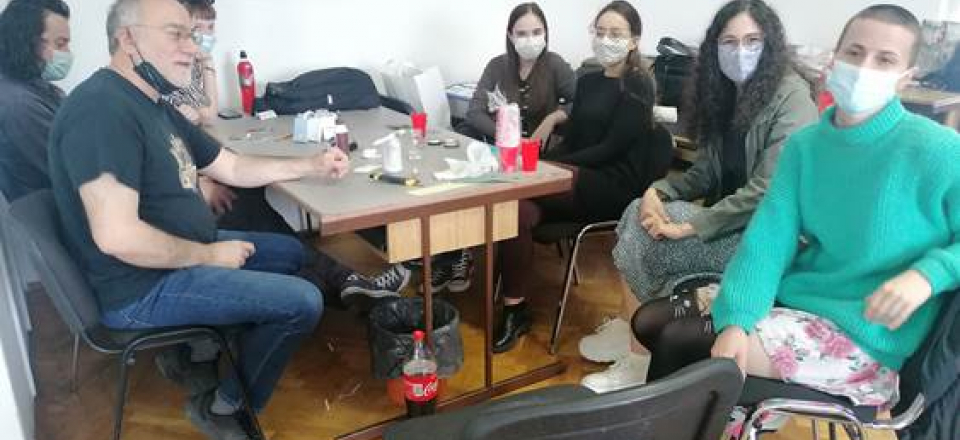 *Foundation for Youth Culture "Danilo Kiš", Monday 20th September at 9.30 am
Ranko Munitić (famous Serbian critic) once said that there are three metaphysical reflections of the human being. These are SHADOW, MASK and PUPPET. All three, he said, can be separated from their human original.
SHADOW is a dark, unknown part of a person's personality. It exists in two dimensions and is defined only by the contour, the silhouette. It has no eyes, eyebrows or mouth, it cannot make grimaces and show emotions. It is expressed only by gestures, pantomime.
PUPPET replaces the whole person, so it has a body with a costume and a head with a face that is unchangeable. The shadow is animated by the original, and the puppet by someone else.
MASK covers only the face, the rest is a costume. In ancient theater, masks were an indication that an actor had become someone else, and they also allowed one actor to play a larger number of roles. The simplest masks are neutral and their only role is to hide the wearer's face. Such are the masks that we are currently forced to wear due to the pandemic, only their role is different, to protect. However, there are transparent masks that protect the owner and do not hide him. Bank robbers first wore black masks and later used various comic book characters and comic portraits, all of which were available in shops selling props for masquerades and street carnivals. These masks were no longer neutral, but depicted various types of faces whose eyes, eyebrows, noses and mouths were able to express a variety of emotions. The mask in the theater does not have to be a separate object, but only a thick spread of make-up. In certain cases, the image of the face could even remain the same by changing the mask, but the mood would change. Ancient Peking Opera has hundreds of precisely typed masks at its disposal, so that the Chinese audience knows exactly who the person is and how he/she must behave on stage. Comic book superheroes have a special reason for wearing masks: they hide their secret identity from bad guys, while their motionless mask, hiding their emotions, also shows them as unwavering fighters for justice.
The aim of this workshop would be to turn empty and neutral masks that only protect the owner, into imaginative characters from real or imagined theatrical performances. Fairy tales, operas, dramas… remember what you last saw in the theater. These characters can be people, but also animals, mythological personalities, Martians or other non-existent creatures. The white mask here is white paper which is the basis for the work of art. Only in this case, it complements what is not hidden - the eyes and eyebrows of the wearer, which play the biggest role in social communication. So, give someone your drawn mask and imagine it with his/her face. It can be the face of a friend next to you, a strict professor or just you!
Back to...