23 september 2021
The 12th International Forum for the Research of Theater Arts for Children and Youth took place in Subotica
Back to...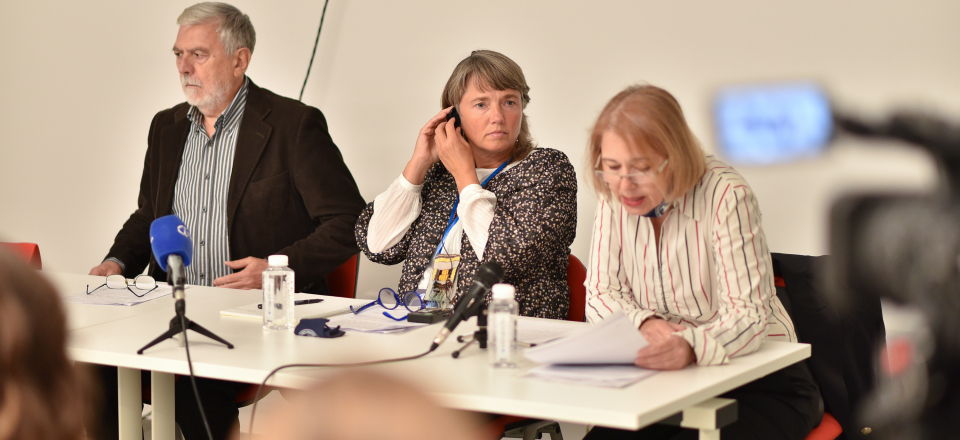 The twelfth edition of the International Forum for the Research of Theater Arts for Children and Youth in Subotica, the largest theatrical gathering in this part of Europe, was held from September 20 to 22 in the new Reading Room of the City Library, within the International Children's Theater Festival Subotica. Over the course of three days, the forum brought together theorists and theater researchers from 16 countries and three continents. A total of 30 participants in this important gathering for theatrical art were mostly present in Subotica, while a smaller number of the participants presented themselves online.
Dr. Mariana Prpa Fink, head of the forum, said about the circumstances of this year's edition: "This year the forum is much larger in every sense, and the epidemic had less impact on work compared to last year. The forum has finally got the shape it should have, because it has participants from all over the world: Serbia, Croatia, Bosnia and Herzegovina, Slovenia, Austria, Ireland, Denmark, Norway, Poland, Russia, Georgia, Lithuania, Iran, India, New Zealand. Participants from Nigeria and Egypt did not participate in the presentation of their works, but applied with their suggestions. A large number of participants were present, and few of them were online. Although, of course, we take care of all measures of epidemiological protection, it is still important that the participants are physically present and that we can ask each other questions and exchange opinions in informal conversations."
Mariana Prpa Fink also pointed out the importance of the forum for the domestic theater scene: "We want and intend to have a very lively interaction with the domestic theater scene, because the presence of all these experts allows us to have an insight into what is being done in the world." That way we can improve our domestic theater scene for young people, and at the same time learn and watch how others do it. We can give the theater for children and youth some new forms, respecting the old ones, and improve the understanding of the phenomenon of theater for children and youth in all its segments and forms. Children as an audience are changing, so we are trying to understand and explain what the function and the role of theater for children and youth is today. "
The two umbrella topics of this year's forum were "Reception of aesthetic categories and evaluation in theater for children and youth" and "Festivals for children and youth - perception and selection". However, after the researchers' works started to arrive, they were grouped into several categories, and the forum was extended to three days, during which three thematic units were finally processed.
On the first day, the topic was "Children's reception - children as an audience". About this thematic day, Mariana Prpa Fink said: "We realized that it is very important that the principles and aesthetic categories are clear and presented to those who produce theater plays. However, we tried to look from another angle, that is, to try to understand how children as an audience react, that is, what their evaluation system is concerning the theater." The second day was dedicated to theater and education research. "We are aware that the elements of theater can be very useful in the process of education, and not only education but also the growth of young audiences, in order to become truly adults and have a sense of value in the world they live in," said Mariana Prpa Fink. The third day was dedicated to children's theater and repertoire, about which she said: "We analyzed what can be offered to festivals and theaters, so that children have a very clear picture of what is worth and what simply is not worth their attention. We understand that festivals are very important places, and that children as an audience have the feeling that the theater is an unforgettable part of their upbringing. "
Pernille Welent Sørensen, a forum participant from Denmark, commented on her experience during the previous days: "It is very interesting to meet people from different countries, who work in different conditions, and get to know their work. I also enjoyed that we were all different ages - some were very young and others were already experienced professors. I think knowledge sharing is very important in this area. It was also interesting to me that I met maybe only one person I knew from before. Now it's the whole new network and that's extremely interesting. It's like opening a completely new networking system, which makes me very happy. "
Maryam Kazemi, a forum participant from Iran, emphasized that she is glad to be in Serbia and to enjoy the time she spends here. "The forum gave us the opportunity to share our experiences, to get acquainted with the problems in different countries, which are related to theater, education and all of us who work with children and youth. It is a very demanding field. For me, this was also an opportunity to present my various works from Iran, to show how things are done in our country and to present our real problems. I was encouraged and gained confidence so this forum was very useful for me".
In the end, Mariana Prpa Fink also referred to the performances within this year's program of the International Children's Theater Festival Subotica: "This year the festival is of exceptional quality. The performances are diverse, they are for different ages, they come from different cultures and countries. The most important thing is that the children participated in these theatrical performances extremely strongly and incredibly interactively. Regardless of the fact that some plays come from foreign countries, they understood and participated emotionally in what was happening to such an extent that at some moments it was interesting to watch the children acting as an audience, to see how they participate in performances and analyze how they manage, in not quite conscious way, to approach all those very complex symbols that come from the stage."
Back to...