Competition Program
Back to...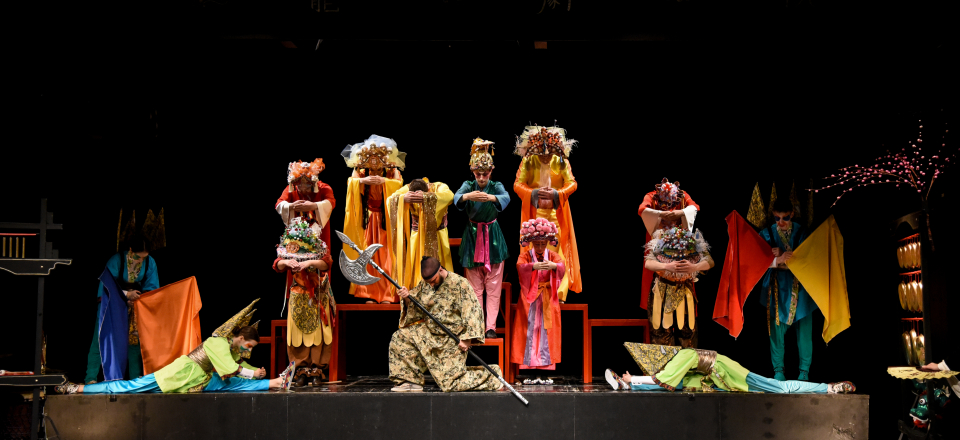 Little Theatre Duško Radović
Serbia
Autor:
Den Totero
Director:
Branislava Stefanović
Cast:
Marijana Vićentijević Badovinac, Arsenije Tubić, Goran Balančević, Ljiljana Peroš, Nenad Radović, Katarina Dimitrijevič, Aleksa Jovčić, Filip Stankovski, Nikola Kerkez, Sandra Rodić Janković, Ivana Adžić, Đorđe Kreća, Nikola Veličković, Lazar Tirić, Una Stepanović, Ana Đerković, Ana Svorcan
Stage Design:
Tanja Žiropađa
Puppet Design:
Tanja Žiropađa; Costume design: Maria Marković Milojev
Music:
Dragana Jovanović
Age of the audience:
5+
Performance duration:
01:00
Language:
Serbian
The story begins with a great injustice – in ancient times there was a tradition by which only a boy could inherit the throne and become an emperor! Apparently, girls and boys are not of same worth! In this story, in our empire, twins were born – a boy and a girl. They were forcefully separated at birth, but through great struggle and persistence found their way back to each other. Will they be able to overcome the unjust old tradition? Will the empire have an emperor or an empress?
Back to...